Providing customers with an omni-channel experience is important for optimising the customer interactions and increasing the accuracy and depth of customer insights. Furthermore, an omni-channel strategy will allow for a complete view of customer experiences, behaviour and changes required across the organisation. When crafting an omni-channel experience, performing a customer journey mapping exercise is a first step that will assist in identifying the best method to gather customer feedback, and then deploying a solution that facilitates the required channels within one platform. The collection of feedback allows an organisation to gain a complete understanding of each stage within the organisation's customer journey.

There are 3 types of customer feedback channels, solicited, unsolicited and inferred.

1. Unsolicited customer feedback: This includes gathering data out of the organisation's control. It includes feedback from social media (likes/ dislikes on posts) or just simple Tweets about the brand.

2. Inferred customer feedback: This data is associated with customer experiences including website clickstream data, mobile app location data, contact centre operational data, or eCommerce purchase history.

3. Solicited customer feedback: This is proactively seeking customer feedback. This type of method is essential to the growth of a business as it can be a powerful tool that can provide an organisation with insights into every part of the organisation. This includes from the product/ service rendered right through to the customer support. In summary, feedback is the way to keep your target market at the heart of everything done by the brand.

Partnering with a VoC provider who can provide you with solicited customer feedback is key. Further, the ability to gather and interpret unsolicited feedback, and overlay both feedback sources with inferred feedback, provides a holistic view of customer experience.

According to the 2022 state of CX in SA report, as much as customers still expect an immediate response to queries, they also want to be able to provide feedback to the organisation on their preferred channel of choice. Therefore, the survey channel an organisation utilises to collect feedback has vast implications for the success of the Voice of the Customer (VoC) program. By utilising Smoke CI's Eyerys software, which offers several channelling method options, an organisation can gain a deeper understanding of the customers' experience at specific touchpoints throughout their journey. Below highlights the most popularly used channels: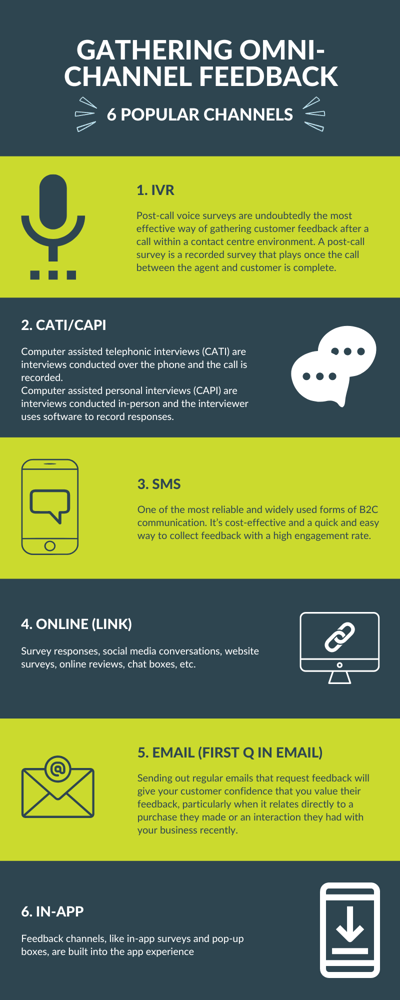 We explain more about the channels you should be using to collect customer feedback here.
With the benefit of our in-house research experts, Smoke CI identified the following industry-standard benchmark response rates across the different channels.

In 2021, we conducted a benchmark study on our own data, across industries and geographies, analysing almost a million results. Our investigation focused on the benchmarks within service based/contact centre journey surveys and sought to understand how response rates were impacted by survey methodology and what the correlation was between driver and outcome metrics. We published an eBook to share our findings, which you can read here.
When assessing each channel, its important to understand that every channel does not suit every customer or interaction, and so understanding the pro's and cons of each is important in the decision making process.
Advantages and Disadvantages overview: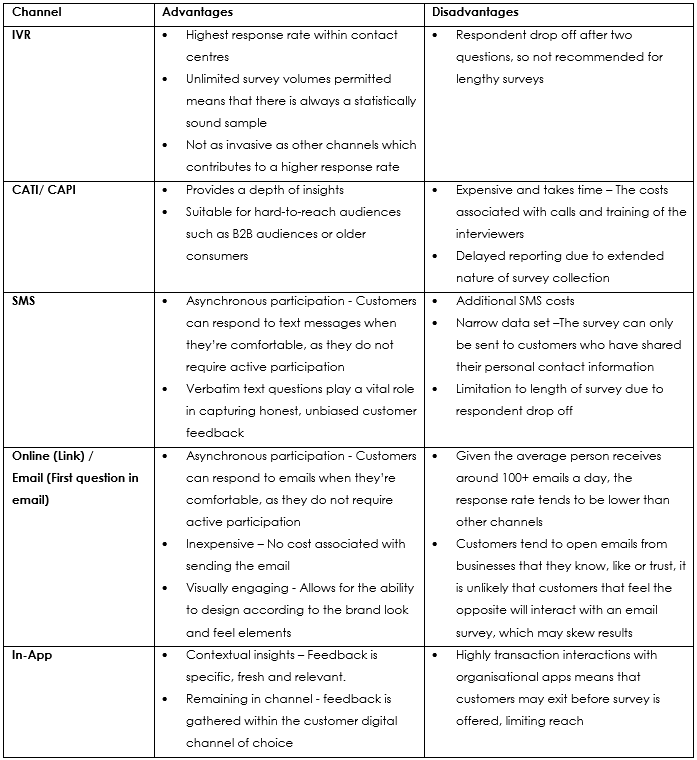 With so many channels to choose from, determining the right channel can sometimes be confusing. There is no one size fits all channel that works for all organisations as it can depend on several factors such as the timing – after a transaction or targeted audience. A company is also not required to just stick to one channel, a combination or combination of channel types is always advised, especially when an organisation is trying to boost completed response numbers. Organisations should therefore consider exploring other channels to examine their effectiveness.
Additionally, it is also important to consider the design of each survey at each stage within the journey. For example, face to face interactions at an organisation's branch, you might want to understand the friendliness of the staff, as compared to a phone conversation, and you might want to look at the ease of resolving the issue. There are of course metrics that may be measured at each stage like NPS or CSAT to provide a comparable CX measure across all touchpoints in order to identify which ones are performing vs. no performing.