Small, start-up businesses in South African face challenges on a daily basis. From finding the right partners to invest in the new business, all the way through to getting clients on board.
In a recent interview about Smoke Customer Intelligence's newly acquired BEE status, CEO, Andrew Cook, had this to say: "We know and understand how important transformation is, and we want to play our part. We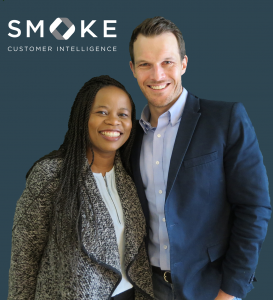 want to contribute to companies who actively drive our great country forward." This was the driving factor behind his decision to transform the business.
"We are proud to announce that Smoke Customer Intelligence is now officially 51% black-owned and a BEE level 2 contributor. Being Level 2 in South Africa reflects the essence in which Smoke CI actively contributes to empowerment, transformation and participates in changing the future of South Africa.
We are also excited to be the first company in our sector to embrace change and help drive transformation."
As a company, they want to invest in the community
As believers and supporters of driving transformation in SA, Cook and his team want to give back to the community and country by investing in small black-owned, market research companies.
Any small black-owned companies within the market research space who want to discuss potential opportunities or want to receive more information about this can get in touch with Andrew directly, who is actively looking for the right partnerships: andrew@smokeci.com.